Resources for Enrichment, Athletics, Culture and Health (R.E.A.C.H.) is an initiative of the Office of Lieutenant Governor Shan Tsutsui (OLG) working in collaboration with the Hawaii State Department of Education (DOE) and the Office of Youth Services (OYS) within the Hawaii State Department of Human Services.
The purpose of this statewide initiative is to provide an organizational framework and a funding base for public schools to offer after-school programs for middle and intermediate school students so they can stay on track toward high school graduation and be better prepared for future success. The programs offer instruction and activities from three general areas: academic enrichment, arts and culture, and athletics.
Each year, the OLG and OYS look for qualified applicants to provide after-school programs, services, and activities in safe, structured learning environments that address the unique needs and issues of students in their school communities during non-school hours. Funds are made available through OYS for public middle and intermediate schools that meet the selection criteria. OLG/OYS administer the application process for project funding and the DOE distributes grant awards to selected schools.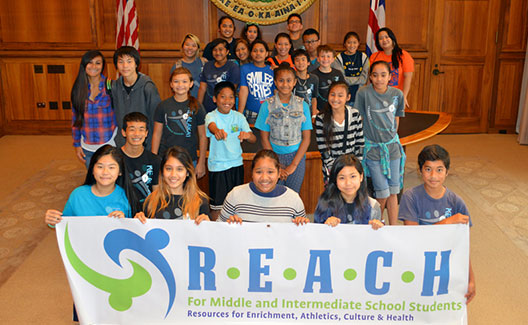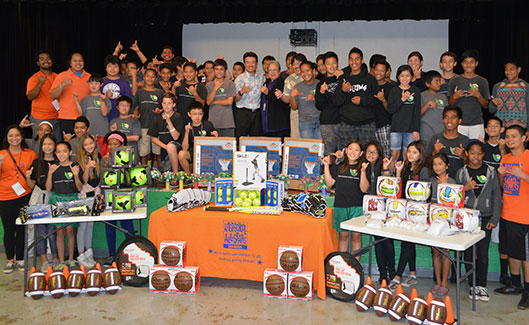 Mission of R.E.A.C.H.
To ensure all students in grades 6 to 8 receive the academic and community-based support they need to stay on track toward high school graduation, college, career and beyond by engaging them in a broad-base of programs and activities, outside of regular instructional hours, in the areas of academic enrichment, arts and culture, and athletics. Studies repeatedly show that effective non-instructional hours programs not only add an educational benefit by keeping students safe and engaged in learning, but they also help to improve student academic performance, school attendance, behavior and health.
Nearly 50% of all first time juvenile arrests in the State of Hawaii occur at the middle school age. The state has long focused on providing after-school programs to our state's elementary and high school students; however, there is no comprehensive program at the intermediate/middle school level. The majority of existing intermediate/middle school programs are supported by unpredictable federal funding. A more reliable source of funding is needed to provide greater stability and higher rates of participation. Using a community based approach, the initiative utilizes federal and state funds, while also partnering with schools, parents and the private sector to provide necessary funding and resources.
R.E.A.C.H. also works with organizations currently utilizing successful platforms throughout the state to bring these programs under one umbrella organization.
For the 2014-15 school year, Hawaii's graduation rate was 81.5%, dropout rate was 14.7%, and 3.8% either received a special education certificate of completion in lieu of a diploma or attended school but did not graduate in the four-year time frame.
This initiative seeks to help reverse the high school dropout crisis by stopping disconnection where it takes hold – in the middle school years. It provides participating students in public middle/intermediate schools within the state, the opportunity to participate in after-school programs and improve outcomes in attendance, behavior, course work, and grades.
REACH Out Hawaii
REACH Out Hawaii is the 501c3 non-profit fundraising and support arm of the R.E.A.C.H. Initiative.  It was created by Lieutenant Governor Tsutsui to be uniquely positioned to be able to build innovative public-private partnerships that can match government with the charitable resources of the private sector, partnering Hawaii's public middle and intermediate schools with generous community partners seeking to help our schools move forward.
The Board of Directors are responsible for the oversight and strategic planning, including the development of a funding base for the R.E.A.C.H. Initiative and REACH Out Hawaii.